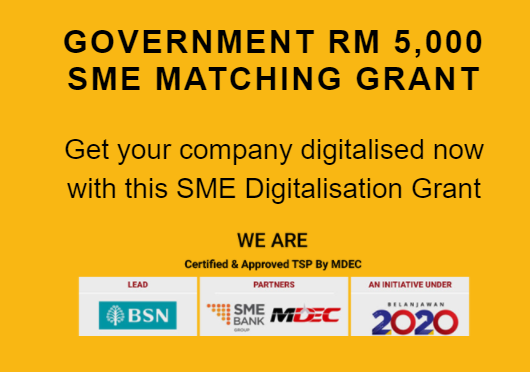 SME Digitalisation Grant
Are you planning to design a website for your company ? or are you planning to invest in digital marketing, such as Google Ads or SEO (Search Engine Optimization)  for your online business ?
Now there is a good news for the SME (Small and Medium Enterprise) in Malaysia. Under the Budget 2020, The Ministry of Finance Malaysia was in collaboration with Malaysia Digital Economic Corporation (MDEC), Bank Simpanan Nasional (BSN) and SME bank to introduce "SME Digitalisation Initiative" by providing matching grant for the Malaysian SME's digitalisation transformation.
The SME Digitalisation Initiative, also know as "SME Digitalisation Grant" or "SME Digital Grant", is a matching grant that the Malaysian Government will subsidy the SME to pay for digital marketing fee, up to maximum of RM 5,000 or 50%, whichever is lower.
Maximus System Solutions, one the the leading Web Design and SEO services company in Malaysia, is now approved as TSP (Technology Service Provider) by MDEC under this SME Digitalisation Grant.
If you are a SME which your company is owned at least 60% by Malaysian,  operated at least 1 year , registered under SSM and have audited report for the year 2018 or 2019, then you are eligible to apply this SME Grant.
FAQ For SME Digitalisation Grant
Q : How Much Is SME Digitalisation Grant Allocated ?
A : The total amount allocated for SME Digitalisation Grant is RM 500,000,000 for the period of 5 years , or limited to first 100,000 SME applications, which ever come first.
Q : How Much Of The Grant For A SME Could Apply?
A : The Government will provide a 50% matching grant of up to RM 5,000 maximum per company for the subscription above. In other words, the SME pay 50%, the Government pay 50% up to maximum of RM 5,000
Q:  I want to apply the Grant for Google Ads, SEO, Web Design and other form of digital marketing, possible ?
A : Yes. However the maximum amount that the Malaysian Government will pay is RM 5,000 for each SME, regardless of how much you apply.
Q : How Long will it take to process the Grant Application Form ?
A : Due to large volume of applications, It will generally take 1-2 months to process.
Q : Where Should I Submit The SME Digitalisation Grant ?
A : You can directly submit the application to the nearest BSN branch, Alternatively , you can ask the TSP to help you to submit the application.
For more information about this SME Digital Grant , Kindly visit https://www.maximus.com.my/mdec-bsn-sme-grant.php